Mobile Access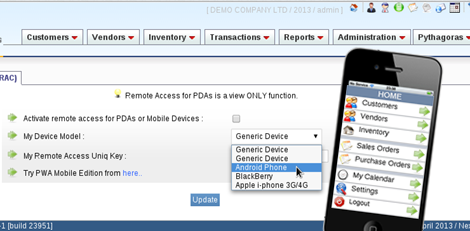 EasyPacc Mobile gives you on-the-go access to your finances wherever you are. Whether you're away from your desk, out of the office or in a meeting – you'll have instant access to your customer, supplier, financial and sales information from your mobile device.
Instant access to your finances, no matter where you are.
Instant access to your customers & vendors details.
All of your product and stock information at hand.
Supports all modern mobile devices.
---
Mobile Access

EasyPacc Mobile gives you on-the-go access to your finances wherever you are. Whether you're away from your desk, out of the office or in a meeting – you'll have instant access to your customer, supplier, financial and sales information from your mobile device.

Instant access to your finances, no matter where you are.

Instant access to your customers & vendors details.

All of your product and stock information at hand.

Supports all modern mobile devices.

I travel a lot. Mobile Access add-on is definitely for me.
Silvestro, G.K.K Ltd